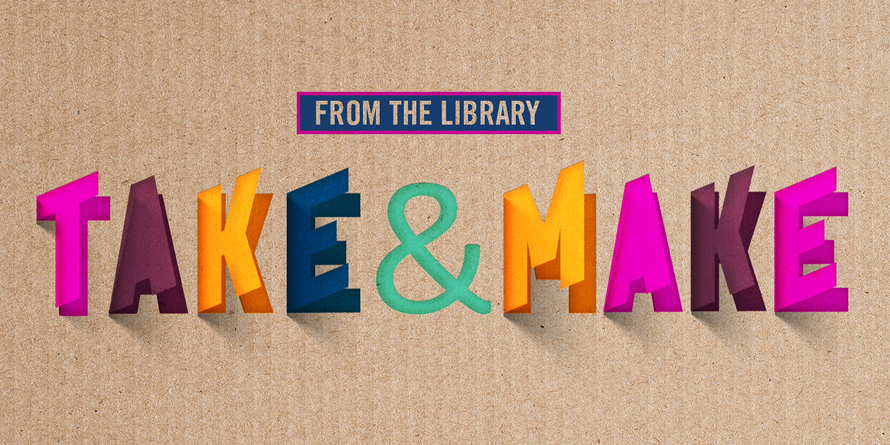 Are you looking for some fun activities that you can do from the safety of your home? The Library District now offers FREE Take & Make activity kits that are available to pick up from our libraries! We provide all the supplies for creative and educational crafts, early literacy, STEAM learning, and more! These take-home kits have grown in popularity and allow us to serve the community of Clark County in new and creative ways, as well as entertain and educate children and teens while they are at home. Find out what is currently available at the library location nearest you in the list below. You can even call ahead to schedule to pick them up with our contactless Curbside service! When you have finished your Take & Make activities, snap a picture, and tag us @LVCCLD on Facebook, Twitter, or Instagram so we can see them and share your creativity! 
November 2021
---
Centennial Hills Library
Saturdays: Stop by the Youth Services Desk to see the latest craft take & Make kit!  We will have a new craft each week while supplies last.
Teen Tuesdays: Pick up our latest Teen Take & Make Craft kit, with everything you need (except glue) to make a cool craft at home! Available while supplies last.
---
Clark County Library  
Tuesdays & Thursdays: Take and Make crafts are available after the Family Storytimes and are given out at the conclusion of the program.  
Sunday, November 21 - Thankfulness Journals
Free for all ages at the Reader Services Desk that would like to make a thankfulness list, or even do some creative writing!  The journals are available on a first come first served basis, while supplies last.
---
Enterprise Library 
Fridays: Family Take & Learn
Come by the Enterprise Youth Services Department for a craft to take home and do with your entire family! All ages. While supplies last. 
Friday, November 12: Lions, Tigers, and Bears, Oh My! Paper Craft Kit
Pick up a lion, tiger, or bear paper craft to make at home. Available all day for all ages while supplies last. 
---
Indian Springs Library
New Kits Every Week Starting on Tuesdays!
We do a different Take & Make craft kit every week starting on Tuesdays. They are available for pick up any time during the week through Saturday. Most crafts are for kids but are available to teens and adults who would like to pick one up. Please call us at 702.879.3845 for more information. 
---
Rainbow Library
1st and 15th of Every Month: Craft Kits
Visit the Rainbow Library to check out our latest Take and Make craft bags. New bags are available on the 1st and 15th of every month, while supplies last. For more information, please call 702-507-3716.
For Adults & Teens:
Monday, November 1: Brain Games
Your Job is to create three squares, out of the above puzzle figure of four squares. You are allowed to move only 3 pencils, and these pencils will have to be used to create the three squares. Available while supplies last.
Monday, November 15: Beaded Bookmark
This take & make kit will have everything you need to create a beaded bookmark. Available while supplies last. 
---
Spring Valley Library
Swing by the Spring Valley Library to pick up a free learning activity, craft, or more! You can complete the activity at the library or at home. Take & Makes are extremely popular and supplies are limited.
Sundays:
Brain Breaks for grades K through 12
Need a break from the screen? Come on in and grab a fun activity packet. Activities include puzzles, coloring sheets, and more!
Storytime to Go for ages 0-5
Kits will include a link to a book on YouTube and a learning activity or craft.
Tuesdays: 
Foldable Fun for ages 6-11
Come on in and grab a fun origami craft.   
Thursdays: 
School Age Craft for ages 6-11
Come on in and grab a fun takeaway craft or activity. 
Always Available:
Cursive Packets (Ages 6-11)
Celebrate Pride and Design Your Own Flag (Ages 12-17)
Number/Alphabet Packet (Ages 3-6)
Specialty Offerings:
November 18: Pokemon Biology to Go
November 24: Thankful Bookmarks - Give thanks to your friends and family with festive bookmarks that you create! For all ages. 
For Adults:
Wednesday, November 3: Fall Greeting Cards
Fall is in full swing! Send your loved ones a homemade greeting card! This kit includes everything you need to get creative while supplies last!
Wednesday, November 10: Embroidery Bags
Embroidery is a big hit so we are bringing it back! Embroidery Bag will allow you to stitch your own design. This kit includes everything you need to get creative while supplies last!
Wednesday, November 17: Sand Portrait
Create this portrait using only colored sand! This kit includes everything you need to get creative while supplies last!
---
Summerlin Library
Crafty Kids Saturday: Every Saturday
Come by Summerlin Library Youth Services Department and pick up your Crafty Kid Kit to take home (while supplies last). Each kit contains a craft that is fun for the whole family!
Saturday, November 6: Paper Strip Pumpkin
Stop by Summerlin Library on November 6 for Crafty Kids Saturday! Pick up your take and make kit to create your very own paper strip pumpkin! While supplies last.
---
West Charleston Library
School Age Take & Make Kits: Available all month at the Youth Services Desk while supplies last.
Adults: Photo Magnets!
Pick up a craft kit to make a photo magnet to hand on your fridge or to give to someone special. Available at the West Charleston Library Reference Desk for the month of November while supplies last. Also available for curbside pickup.
---
West Las Vegas Library
Families: Gratitude Tree!
Design your own Gratitude tree. Begin the holiday season by taking note of all the things you are grateful for. Supplies included are: a mini ceramic pot, 3D printed tree branch, decorative rocks, paint, 1 paint brush, paper leaves, putty to stick leaves on and a marker to write down words/phrases of what you are thankful for. Stop by the self checkout near Adult Services to pick up your kit. One per family while supplies last. 
---
Whitney Library
Tuesdays: Crafts for all ages!
We will feature a new craft every Tuesday that will be available all week while supplies last. 
November 2 - Paper Acorns
November 9 - Scarecrow
November 16 - Thanksgiving Joke Cootie Catcher
November 23 - Handprint Turkey
November 30 - Paper Holiday Wreath
---
View the Library District's FREE online resources and learning tools for school success by clicking HERE.