Open for Businesses
Employers –
Learn About Free Services to Help Your Business
Recover & Grow
No-cost talent recruitment, hiring, and training
Financial incentives for hiring Nevadans
Access to funding and more!
Employers need assistance during these challenging economic times and help is now available through the new Employ NV Business Hubs, which are open in two convenient locations:
Sahara West Library, located at 9600 W. Sahara Ave.

Contact The Employ NV Business Hub
Email: info@EmployNVBusinessHub.org
Phone: 702-780-8255

Vegas Chamber, look for Suite 100 inside the Smith Center for the Performing Arts, located at 575 Symphony Park Ave.
The Employ NV Business Hubs are designed to connect employers to free resources and help them create a plan for the future. Through these doors, employers will find easy access to the public workforce development system, which provides a wide range of tools, training, and funding through federal programs. The Hubs are staffed with experts who know how to help employers navigate this system and unlock resources that many people are not aware of.
The Employ NV Business Hubs are a coordinated effort between Workforce Connections, DETR, the Nevada Department of Business and Industry, the Vegas Chamber, and the Las Vegas-Clark County Library District.
Sahara West Library Welcomes Employ NV!
Contact The Employ NV Business Hub
Email: info@EmployNVBusinessHub.org
Phone: 702-780-8255
How The Business Hub Can Help
Facilities:
The new Employ NV Business Hub is an impressive 2,650 square-foot multi-functional space located adjacent to the library's art gallery. This exciting new business hub features conference spaces equipped with the latest technology; computers and WiFi for small business owners or start-ups; plus several unique areas to host employer and industry networking events and workshops.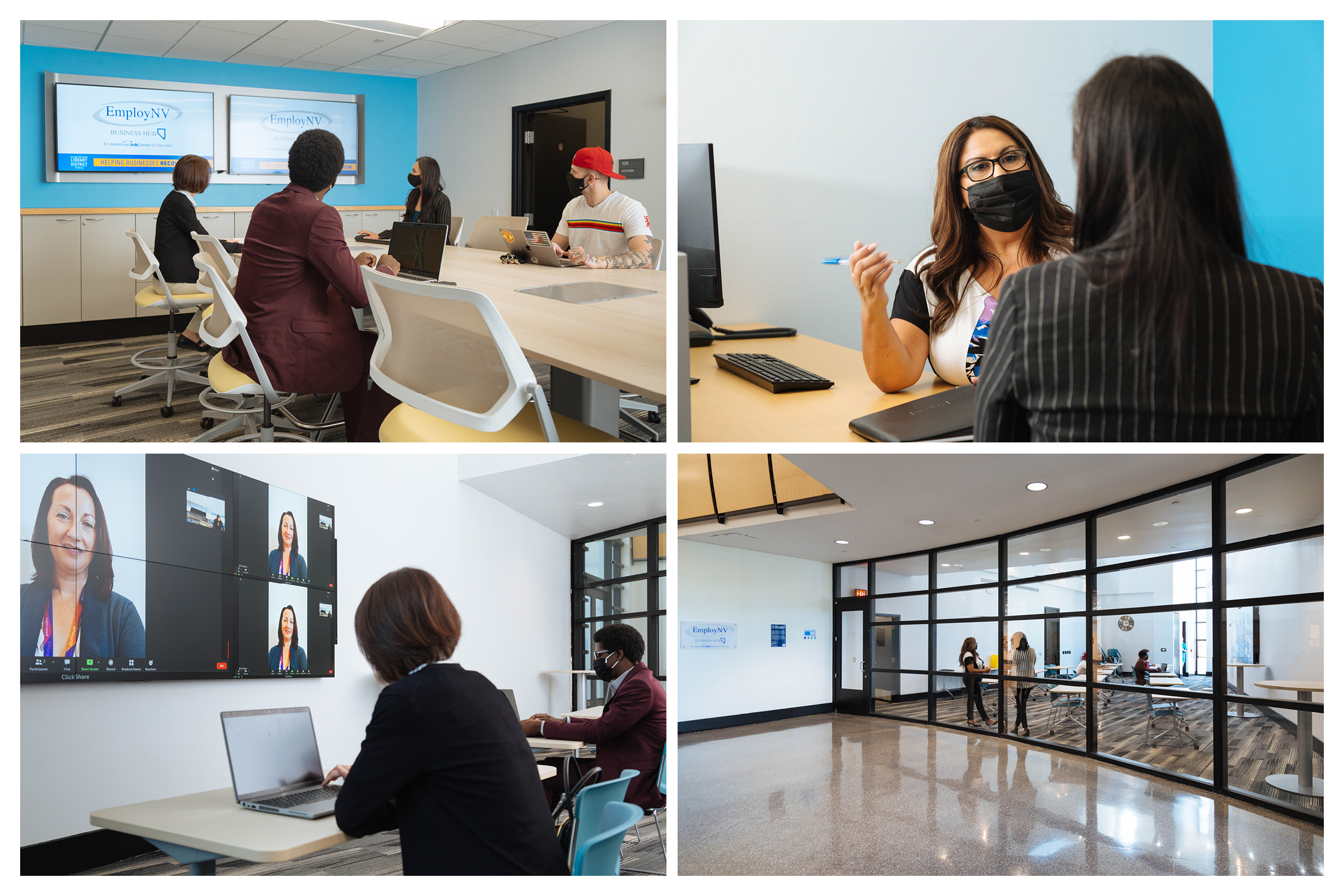 Best of all, as soon as you enter the Employ NV Business Hub, you will be greeted by trained, on-site staff, who will talk with you about your needs and guide you to the resources that you need.
The sole purpose of this state-of-the-art space is to help local employers access a myriad of no-cost solutions offered through the publicly-funded workforce development system.
Workforce Services:
Work-ready talent pools
Employee training programs
Financial incentives for training Nevadans
Financial incentives for providing work experience for youth
Just in time training via community college / post-secondary education
Connect to current and future K-12 career pipelines
Business Services:
Employer Job Postings
Financial Incentives for hiring Nevadans
Customized recruitment campaigns
Specialized hiring needs
Assistance with layoffs or closures
Unemployment employer services
Labor market information
Work Opportunity Tax Credit
Business & Industry:
Planning and counseling services
A step-by-step guide to starting a business in Nevada
Licensing state, local, and occupational
Funding resources
Workplace poster requirements
Free training events